I really want to start reading more again – I used to read 2-5 books a week when I was 10-15 years old, now I read practically nothing. And I miss it a lot. So I've decided to start by finishing the books that I started reading a long time ago and are now collecting dust beside my bed.
Here are the books I've decided to read now in April:
Part 2 of The Redemption of Althalus
David & Leigh Eddings
In Sweden this novel is divided into two parts, hence "Part 2"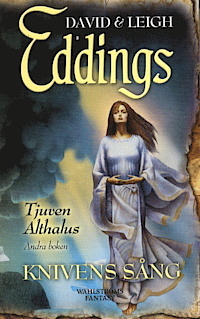 "The scoundrel Althalus has been selected by the goddess Dweia to find and lead the people who are supposed to save the world. That will not be an easy task.Another task that he has much more of an aptitude for is to teach Dweia everything she needs to know about lying, tricking and stealing. In return she teaches him what truth, justice and morals mean. All of this will be needed if Althalus and Dweia should stand a chance against the evil god Daeva.
The tough fight against Daeva and his minions closely unite Althalus, Dweia and their new-found friends. But death is always lurking in the long drawn-out battle. Will Althalus, Dweia and their companions be able to pull through with their seemingly impossible task of saving the world? The stakes are high for getting inbetween two fighting gods. Maybe too high…"
Keeper of the Swords, part 1: Diamond Sword, Wooden Sword I
Nick Perumov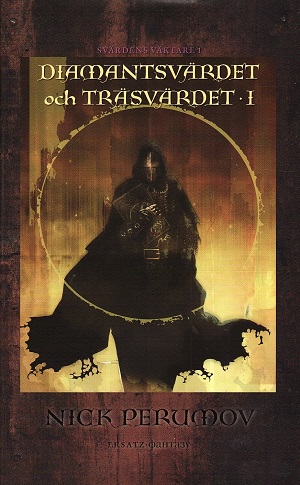 "It has been centuries since the Empire, built by humans, conquered gnomes, elves, orcs and danus, and it is now held with blood and fear. The Throne is supported by a Magic Orden which has almost unlimited authority over the citizens – and even over the Emperor who is haunted by cruel childhood memories. But vengeance is near at hand in this old world which has been abandoned by the good powers and is now flooded by shapeshifters, ghost, spirits and an endless number of nameless creatures.One fall day shortly before the yearly Deathrain a young novice arrives in the provincial town Chvalin in the north. He is tailed by Fess who was sent by the Grey alliance, a gang of mercenaries who sell their services to the highest bidder. Shortly after their arrival, a small caravan lead by the gnome Sidri, the elf Khan-Torog and the sorceress Tavi also arrives. At the same time a travelling circus is hurrying through Drungs Woods to make it their destination before the Rain starts falling.
The events are tracked by the locked up chronicler in the catacombs beneath the Iceflame's church. He sees what's going to happen, and he shouldn't do anything about it, but he can't resist meddling in the course of events…"
Translated from the Swedish synopsis on the book covers.