One of the things I've promised myself for 2014 is to read more than I've done in the past few years – a lot more. So I decided to explore the website GoodReads and found a couple of groups that are about reading challenges – read this or that many books on this theme, or written by authors starting with this or that letter, and so on. They also have book circles, or buddy reads, where we read and discuss a few books every month. This led to me reading 9 books during January – I think that's more than I read during all of 2013… What I thought I would do is to write a short summary here every month about what I've read. Some months there will be a little more, other months there will be a little less.
Number of books: 9
Number of pages: 3,945
The Husband's Secret by Liane Moriarty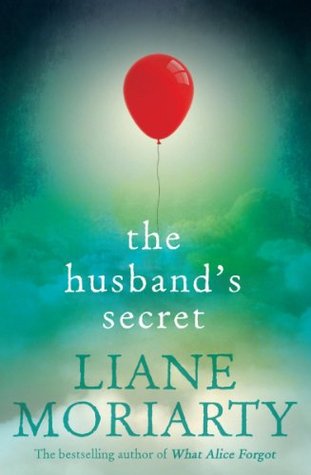 Imagine that your husband wrote you a letter, to be opened after his death. Imagine, too, that the letter contains his deepest, darkest secret – something with the potential to destroy not just the life you built together, but the lives of others as well. Imagine, then, that you stumble across that letter while your husband is still very much alive…
Cecilia Fitzpatrick has achieved it all – she's an incredibly successful businesswoman, a pillar of her small community, and a devoted wife and mother. Her life is as orderly and spotless as her home. But that letter is about to change everything, and not just for her: Rachel and Tess barely know Cecilia – or each other – but they too are about to feel the earth-shattering repercussions of her husband's secret.
I liked how the book was written, the three main characters' distinctive voices and how we got to see them both from the inside and the outside. The story itself was okay.
Rating: 3/5
A Clash of Kings by George R.R. Martin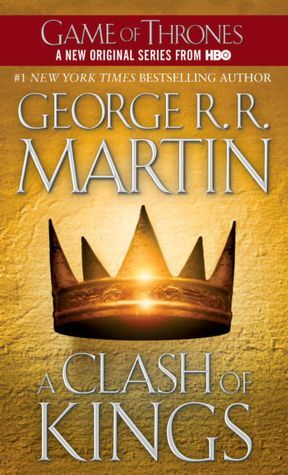 Book 2 of A Song of Ice and Fire. A comet the colour of blood and flame cuts across the sky. And from the ancient citadel of Dragonstone to the forbidding shores of Winterfell, chaos reigns. Six factions struggle for control of a divided land and the Iron Throne of the Seven Kingdoms, preparing to stake their claims through tempest, turmoil, and war. It is a tale in which brother plots against brother and the dead rise to walk at night. Here a princess masquerades as an orphan boy; a knight of the mind prepares a poison for a treacherous sorceress; and wild men descend from the Mountains of the Moon to ravage the countryside. Against a backdrop of incest and fratricide, alchemy and murder, victory may go to the men and women possessed of the coldest steel…and the coldest hearts. For when kings clash, the whole land trembles.
I love this series! It's the typical sort of epic fantasy that I love to read, and this series just has so many interesting characters, great intrigues, and well, I like everything about it.
Rating: 4/5
The Eyre Affair by Jasper Fforde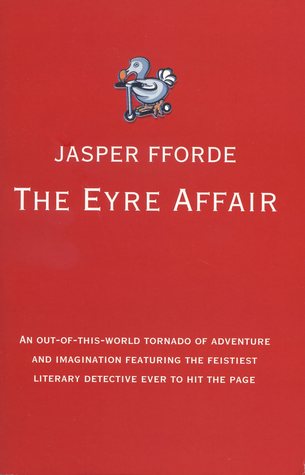 Book 1 about Thursday Next. Welcome to a surreal version of Great Britain, circa 1985, where time travel is routine, cloning is a reality (dodos are the resurrected pet of choice), and literature is taken very, very seriously. England is a virtual police state where an aunt can get lost (literally) in a Wordsworth poem, militant Baconians heckle performances of Hamlet, and forging Byronic verse is a punishable offense. All this is business as usual for Thursday Next, renowned Special Operative in literary detection, until someone begins kidnapping characters from works of literature. When Jane Eyre is plucked from the pages of Brontë's novel, Thursday must track down the villain and enter the novel herself to avert a heinous act of literary homicide.
The story was interesting and there were some ideas that amused me while reading, but the characters were just okay and there was no real wow factor.
Rating: 3/5
Vampire Academy by Richelle Mead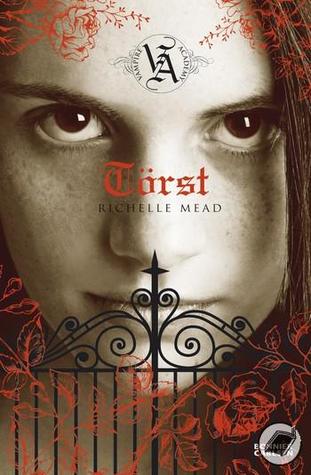 Book 1 of Vampire Academy. St. Vladimir's Academy isn't just any boarding school – it's a hidden place where vampires are educated in the ways of magic and half-human teens train to protect them. Rose Hathaway is a Dhampir, a bodyguard for her best friend Lissa, a Moroi Vampire Princess. They've been on the run, but now they're being dragged back to St. Vladimir's – the very place where they're most in danger… Rose and Lissa become enmeshed in forbidden romance, the Academy's ruthless social scene, and unspeakable nighttime rituals. But they must be careful lest the Strigoi – the world's fiercest and most dangerous vampires – make Lissa one of them forever.
I usually don't read much about vampires, but this one was a bit different from what I've read before in the genre. It was interesting, easy to read, and I started liking the main character right away. I definitely want to read the rest of the series.
Rating: 3/5
Affair by Amanda Quick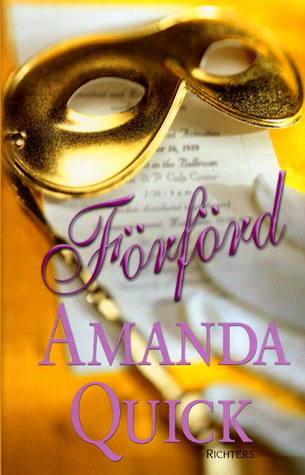 Charlotte Arkendale knew all there was to know about men. After all, she'd made a career out of steering marriage-minded women away from untrustworthy members of the opposite sex. Yet nothing could have prepared her for Baxter St. Ives–an arresting stranger too daring, too determined, too dangerous to be her new man-of-affairs. Still, perhaps he was the perfect person to help Charlotte investigate the recent murder of one of her clients. So she gave him a chance, never realizing that Baxter, a gifted scientist, would soon conduct a risky exploration into the alchemy of desire, with Charlotte as his subject. But even as he sets out to seduce Charlotte, a twisted killer lies in wait, ready to part the lovers…or see them joined together forever–in death.
A nice mixture of mystery and romance. Strong characters.
Rating: 3/5
Uglies by Scott Westerfeld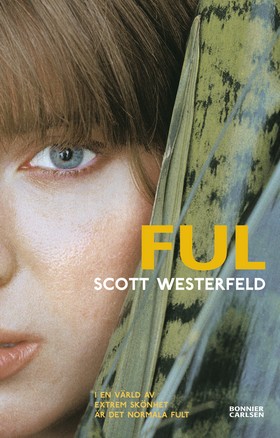 Book 1 of Uglies. Everybody gets to be supermodel gorgeous. What could be wrong with that? Tally is about to turn sixteen, and she can't wait. Not for her license – for turning pretty. In Tally's world, your sixteenth birthday brings an operation that turns you from a repellent ugly into a stunningly attractive pretty and catapults you into a high-tech paradise where your only job is to have a really great time. In just a few weeks Tally will be there. But Tally's new friend Shay isn't sure she wants to be pretty. She'd rather risk life on the outside. When Shay runs away, Tally learns about a whole new side of the pretty world and it isn't very pretty. The authorities offer Tally the worst choice she can imagine: find her friend and turn her in, or never turn pretty at all. The choice Tally makes changes her world forever…
This was a very thought provoking story, and I liked every bit of it. The characters are well-written and the story very captivating.
Rating: 4/5
A Walk to Remember by Nicholas Sparks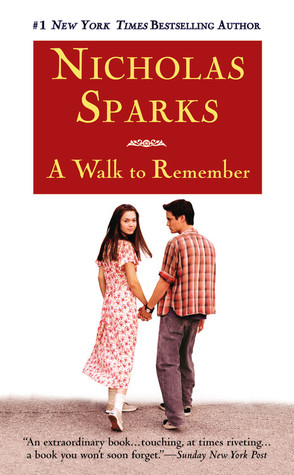 There was a time when the world was sweeter…when the women in Beaufort, North Carolina, wore dresses, and the men donned hats… Every April, when the wind smells of both the sea and lilacs, Landon Carter remembers 1958, his last year at Beaufort High. Landon had dated a girl or two, and even once sworn that he'd been in love. Certainly the last person he thought he'd fall for was Jamie, the shy, almost ethereal daughter of the town's Baptist minister… Jamie, who was destined to show him the depths of the human heart – and the joy and pain of living.
I had heard that this was a great book, but it even exceeded my expectations. It is so simply written but so full of emotions – both hidden and open ones. This is a book not only about love and its mysterious ways, but also about kindness, forgiveness and other things that many might take for granted but that are put in a whole new light here.
Rating: 5/5
Sabriel by Garth Nix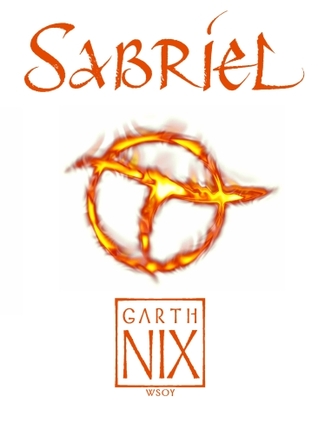 Book 1 of Abhorsen. Sent to a boarding school in Ancelstierre as a young child, Sabriel has had little experience with the random power of Free Magic or the Dead who refuse to stay dead in the Old Kingdom. But during her final semester, her father, the Abhorsen, goes missing, and Sabriel knows she must enter the Old Kingdom to find him. She soon finds companions in Mogget, a cat whose aloof manner barely conceals its malevolent spirit, and Touchstone, a young Charter Mage long imprisoned by magic, now free in body but still trapped by painful memories. As the three travel deep into the Old Kingdom, threats mount on all sides. And every step brings them closer to a battle that will pit them against the true forces of life and death – and bring Sabriel face-to-face with her own destiny.
A nice enough book, interesting with the fine line between Life and Death, but the characters felt younger than they turned out to be.
Rating: 3/5
Insurrection by Robyn Young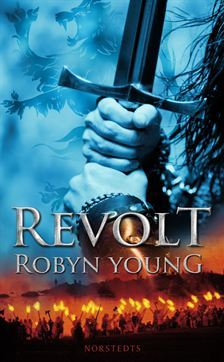 Book 1 of The Insurrection Trilogy. The year is 1286 and Scotland is in the grip of one of the worst winters in living memory. Some believe the Day of Judgement has come. The King of Scotland is murdered by one of his squires, a deed pre-meditated by his own brother-in-law, the King of England, a thousand miles away in France. The Prophecy of Merlin has decreed that only when the four relics of Britain have been gathered will one man rule a united kingdom, and Edward I is determined to fulfil it. The murder of Scotland's king is thus just the first in a chain of events that will alter the face of Britain forever. But all is not destined to go Edward's way. Out of the ashes of war, through blood feuds and divided loyalties, a young squire will rise to defy England's greatest king. His name is Robert the Bruce. And his story begins in Insurrection.
I love historical fiction, and I thought this one was good. I have only heard bits and pieces of the great War of Freedom, so it's nice to get more information about it and see it from different angles.
Rating: 3/5