Today (or yesterday, July 7) was Tanabata Matsuri (七夕祭り) here in Japan, which can be translated as the "star festival". It's a festival day when they celebrate that the two stars Altair and Vega meet in the sky. On that day the Japanese put up bamboo trees that they decorate with pieces of paper where they have written wishes that they want to come true. At Akamonkai we also got the chance to do this. On the Friday they had put up two trees and both were well-filled with wishes in many different colours! Of course I also wrote a wish for the coming year – let's see if it will be fulfilled or not!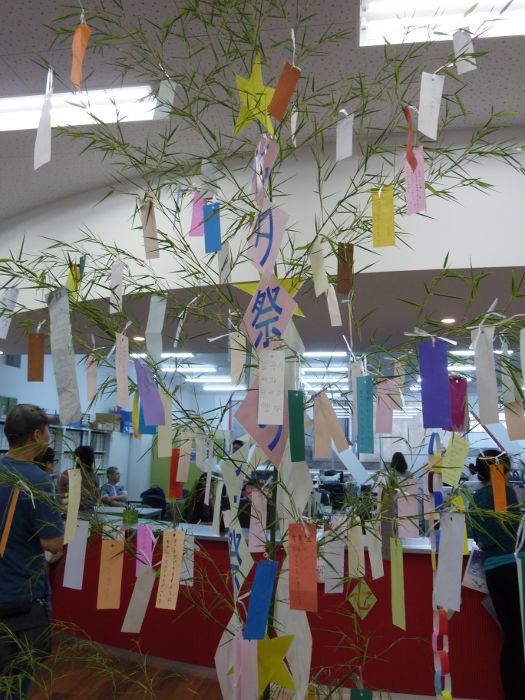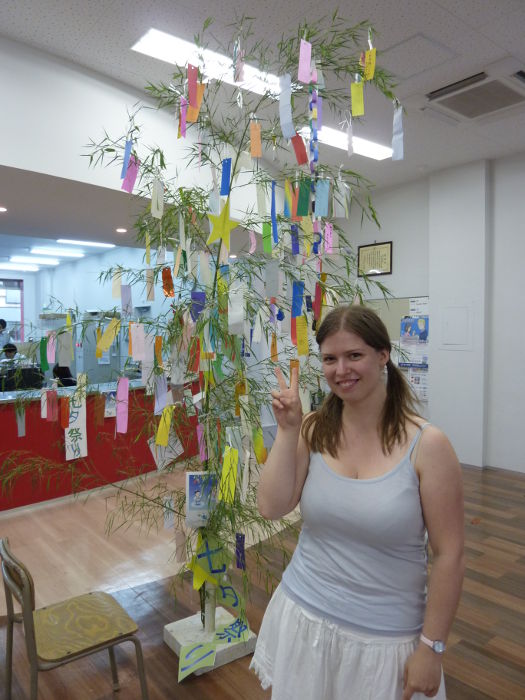 I spent most of the day together with J, first in Shibuya and later in Nihombashi together with two or her friends. It was really amazing to walk around in Nihombashi! It's a shopping district that's in the older part of Tokyo. And it's expensive… Most things at least. We arrived straight at the shopping center from the subway. Then we went up some floors, and the elevators were of the old kind. The one with golden grating doors, and elevator staff who wore really really nice uniforms and talked and bowed continuously. One of J's friends had ordered a yukata (I believe?) and would now go there to get it and to buy some accessories.
J told me a lot about kimono and yukata, what the difference between them is, and some things about all the accessoares one can wear too. It was very interesting! Kimono is the more exclusive one, which is custom-made and well-fitted. Yukata looks almost the same, but it's already sewn and finished, and it usually doesn't fit the person as well as a kimoono would do. J's friend looked really nice in her attire – and while she was choosing accessories I got the chance to try out a yukata myself! Me and J went around in the store looking at some of the yukata there were (soooo many beautiful fabrics, my eyes were sparkling, I promise!!!), and one of the women of the store brought out one which was different shades of pink and had a flower print, and I got to try it. It was really fun and it felt great – because it was one of the things I had wished to be able to do while I was staying here – to try out an attire like this. And I got to do it the very first week in Japan! Even though it was only for a couple of minutes.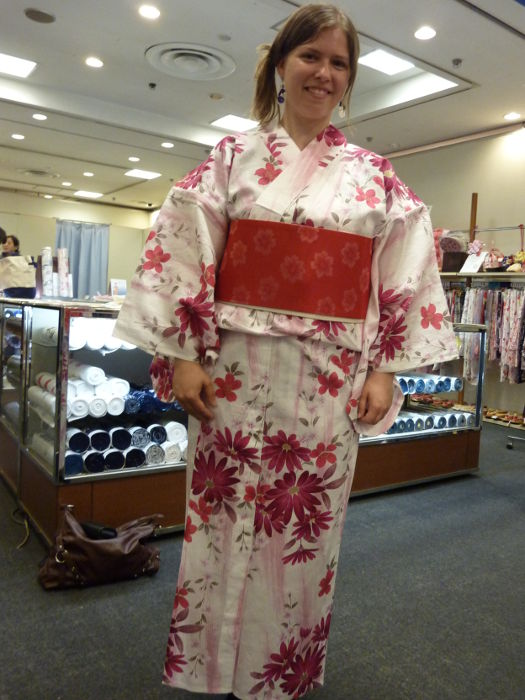 In the evening I went to the same café as yesterday when we sat there studying for some hours. I have a feeling that we will become somewhat of regulars. It's a cosy little café right by the Nippori station, five minutes walk from where we live. Definitely a distance that is okay!
I think it's time for me to go to bed now, since tomorrow will also be a long day full of errands. The only reason I stayed up this late was that a new drama series started tonight – and now I have the possibility to watch dramas while they are broadcast on my small television set in my room! It's a series called Sprout which is filled with guys from Johnny's Jimusho. Some of them are Chinen Yuri from Hey!Say!JUMP and Hashimoto Ryosuke from A.B.C-Z. I didn't understand much of this episode, but my idea is to keep watching the series (which has 30-minute long episodes and will be broadcast earlier in the evenings from now on) and hope to see that my Japanese is getting better.